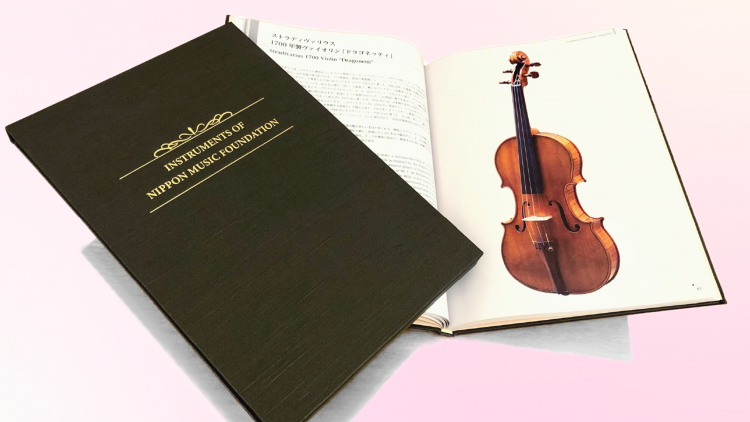 Nippon Music Foundation has produced a non-commercial book, compiling the history of our 21 fine instruments with high quality photographs. The book is donated to libraries, museums and music schools throughout the world so that general public and students who wish to see it have access to it.
PDF
"Instruments of Nippon Music Foundation
"
The book can be viewed at the following facilities.
China
Italy
Japan
Latvia
Luxembourg
Malta
New Zealand
Portugal
Russia
Slovenia
Spain
Sweden
Switzerland
Taiwan
UK
USA
【China】
National Library of China
33 Zhongguancun South Street, Beijing
Phone: 86 10 88544114
【Italy】
Biblioteca Statale di Cremona
Via Ugolani Dati, 4, 26100 Cremona
Phone: 0372.495611-3667514458
【Japan】
List
HERE
【Latvia】
National Library of Latvia, Music Reading Room
Mūkusalas 3, Rīga, LV-1423
Phone: + 371 26607274
Possible viewers: General public, students, researchers
【Luxembourg】
Bibliothèque nationale du Luxembourg
37D, Avenue John F. Kennedy L-1855
Phone: (+352) 26 55 9-100
Possible viewers: General public
【Malta】
Malta Libraries
Digital Version Only
【New Zealand】
National Library of New Zealand
58 Molesworth Street, Wellington
Phone: 04 470 4458
Possible viewers: General public and researchers
【Portugal】
Museu Nacional da Música
Estação do Metropolitano Alto dos Moinhos -
R. João de Freitas Branco 12, 1500-359 Lisboa
Phone: 217710990
Possible viewers: General public
【Russia】
National Library of Russia
Sadovaya St. 18, 191069 St. Petersburg
Possible viewers: General public, students, researchers
Russian National Museum of Music
125047, Moscow, Fadeeva str., 4
Phone: (495) 605-65-15
Russian State Library, Department of Printed Music and Sound Recordings
119019, Moscow, Vozdvizhenka 3/5
Phone: +7 499 557 0470
Possible viewers: General public
【Slovenia】
National and University Library
Turjaška 1, SI-1000 Ljubljana
Phone: +386 1 2001 194
Possible viewers: Library members
【Spain】
Escuela Superior de Música Reina Sofía, Library
Calle Requena, 1. 28013 Madrid
Phone: 915230419
Possible viewers: Students, teachers
【Sweden】
Musik- och teaterbiblioteket
Tegeluddsvägen 100, SE-115 28 Stockholm
Phone: +46 8 519 554 12
Possible viewers: General public
【Switzerland】
BCU Fribourg
Rue de la Carrière 22, Case postale 1701 Fribourg
Phone: +41263051333
Possible viewers: General public, students, researchers
Zurich University of the Arts, Media and Information Center
Pfingstweidstrasse 96, 8005 Zurich
Phone: +41 43 446 44 70
Possible viewers: All users of the library
【Taiwan】
National Central Library
No. 20, Zhongshan S. Rd., Zhongzheng District, Taipei City 100201
Phone: 886-2-23619132
Possible viewers: General public
【UK】
British Library
London, St Pancras - 96 Euston Road, London, NW1 2DB
Boston Spa - Wetherby, West Yorkshire, LS23 7BQ
Customer Services: +44 (0)1937 546060
(09.00-16.00, Monday to Friday, except public holidays)
Possible viewers: General public
Royal Northern College of Music Library
124 Oxford Road, Manchester, United Kingdom M13 9RD
Phone: 0161 907 5241
Possible viewers: Staff, students, researchers
【USA】
Music and Recorded Sound Division,  NYPL, Special Collections
111 Amsterdam Ave,  New York,  NY,  10023-7498
Phone: 212.870.1625 (Music and Recorded Sound)
Possible viewers: Students, researchers
National Music Museum
414 E. Clark Street, Vermillion, SD 57069 USA
Phone: 605-658-3450
Possible viewers: Students, researchers, staff, public
UCLA Music Library
445 Charles E Young Drive E, 1102 Schoenberg Music Building, Los Angeles CA 90095-1490
Phone: 310.825.4882
Possible viewers: UCLA faculty, students and staff; general public
Violin Making School of America
304 East 200 South, Salt Lake City, UT 84111
Phone: 801 673 9334
Possible viewers: Students
Yale University / Morris Steinert Collection of Musical Instruments
15 Hillhouse Avenue, New Haven, Connecticut 06511
Phone: 203 432 0822
Possible viewers: Musicians, scholars, researchers, students, general public