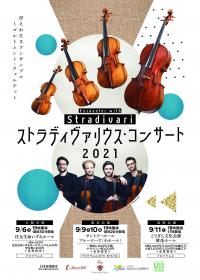 We regret to inform you that "Encounter with Stradivari 2021" concerts scheduled on the 6th (Osaka), 9th and 10th (Tokyo), and 11th (Tottori) of September have been cancelled due to ongoing restrictions on entry into Japan related to the spread of COVID-19. Due to the restrictions, we are unable to expect the performers of the concerts to enter Japan.
Despite the situation surrounding COVID-19, our musicians and staff had been working diligently towards making these concerts a reality. It was therefore a very difficult decision to cancel our concert series this year, however, we will continue to work towards future opportunities to bring top-quality music to everyone.
【Osaka】
Presented by: Nippon Music Foundation, Sumitomo Seimei Izumi Hall[Sumitomo Life Welfare and Culture Foundation]
【Tokyo】
Presented by:Nippon Music Foundation, Suntory Foundation for the Arts Suntory Hall
【Tottori】
Presented by:Nippon Music Foundation, Tottori Culture and Arts Foundationr
Ticket Refund Policy
The ticket agency from which you purchased the ticket will issue a full refund. For information on refund methods, please click on the links below
【Osaka】
We will inform you about the refund procedure at a later date.
Contact:Sumitomo Seimei Izumi Hall Ticket Center 06-6944-1188(10:30-17:00 excluding Tuesdays, Sundays and public holidays)
http://www.izumihall.jp/ticket/
【Tokyo】
Refund Period:
Friday, 28 July~Thursday, 30 September
Contact:Suntory Hall Ticket Center 0570-55-0017(10:00-18:00 excluding hall closing days)
◆Suntory Hall Members Club WEB
http://suntoryhall.pia.jp/guide/refund.jsp
◆Ticket Pia
http://t.pia.jp/guide/refund.jsp
◆E-Plus
https://eplus.jp/sf/refund1
【Tottori】
Refund Period:
Sunday, 1 August ~ Thurday, 30 September
Contact:Torigin Bunka Kaikan 0857-21-8700 (9:00-19:00 excluding 2nd, 4th and 5th Mondays)
◆Tottori Culture and Arts Foundationr
http://cms.sanin.jp/p/zaidan/5/2/12/
◆Lawson Ticket
https://l-tike.com/oc/lt/haraimodoshi/