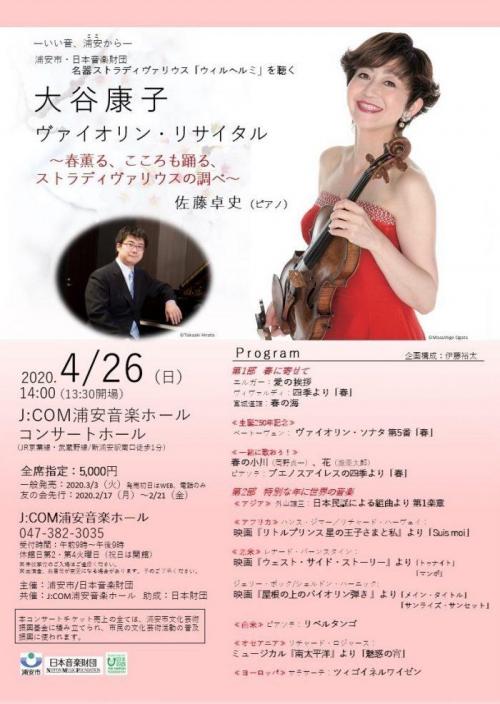 ※This concert has been postponed until Tuesday, 3 November 2020
https://www.nmf.or.jp/english/news/2020/03/post_370.html
Yasuko Ohtani Violin Recital
Date: 26th April 2020 at 14:00(doors open 13:30)
Venue: J:COM Urayasu Concert Hall(1-6-1 Irifune, Urayasu Citu, Chiba Prefecture)
Tickets:Assigned seating 5,000 JPY(Urayasu City residents priority 4,000JPY) 
【PERFORMERS】
Yasuko Ohtani Violin(Stradivarius 1725 Violin "Wilhelmj")
Takashi Sato Piano
【PROGRAM】
Part One: "Approaching Spring"
Elgar:Salut d'Amour
Vivaldi:"Spring" Four seasons
Michio Miyagi:"Haru no umi"(Spring's Sea)
≪Celebrating the 250th Anniversary≫ Beethoven: Violin Sonata no.5 "Spring"
≪Audience sing-along≫"Haru no Ogawa"(spring river), "Hana"(flower)
Piazzolla:"Spring" from "Four seasons of Bunos Aires"
Part Two:" Music from around the world for a Special year"
≪ASIA≫ Yuzou Sotoyama:First movement from "Suite on Japanese folk songs"
≪AFRICA≫ Hans Zimmer:Music from Movie "The Little Prince"
≪North America≫ Leonard Bernstein: From "West Side Story"-
Tonight
,
Mambo
Jerry Bock:Music from "Fiddler on the Roof"
≪South America≫ Piazzolla:Libertango
≪Oceania≫Richard Rogers:Musical "South Pacific"
≪Europe≫ Sarasate:Zigeunerweisen
【TICKETS】
General admission 5,000JPY Urayasu City residents priority 4,000JPY(tickets at this rate are on a first-come, first-served basis)
Tickets can be purchased at J:COM Urayasu Concert Hall. Click
HERE
for online reservation.
For reservations by phone:TEL +81-(0)47-382-3035(9:00-21:00, excluding 2nd and 4th Tuesday of the month)
【DONATIONS】
All ticket sales from this concert will go towads the Urayasu City Fund for Artistic and Cultural Development, and will be used to promote Arts and Cultural development in Urayasu City.
【CONTACT】
NIPPON MUSIC FOUNDATION TEL +81-(0)3-6229-5566
Urayasu Music Hall TEL +81-(0)47-382-3035
Presented by:Urayasu City, Nippon Music Foundation
Co-presnted by:J:COM Urayasu Concert Hall
Supported by:The Nippon Foundation