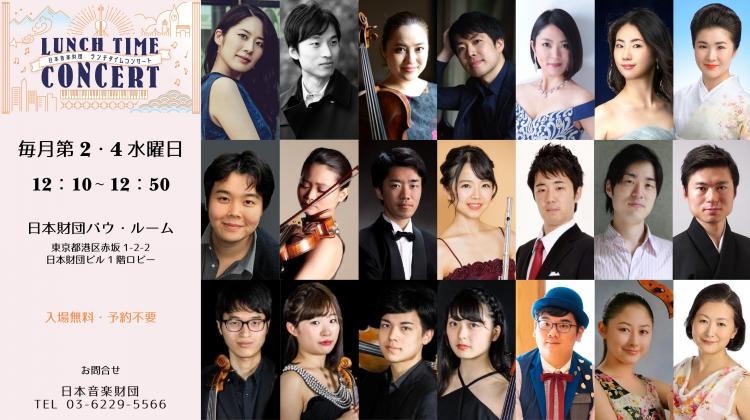 【
Lunch Time Concerts Cancelled Until Further Notice
】
Due to the spread of the new coronavirus, Lunch Time Concerts scheduled to be held on February 26, March 11, and March 25, 2020 will be cancelled.
We sincerely apologize to guests, musicians and the people concerned, who have been looking forward to these concerts.
We will make an announcement about the concerts held in April and after in due course of time.
--------------------------------
Time: 12:10-12:50
Place:1st Floor Lobby - The Nippon Foundation
(1-2-2 Akasaka, Minato-ku, Tokyo 107-0052)
Admission Free, Reservation not required
--------------------------------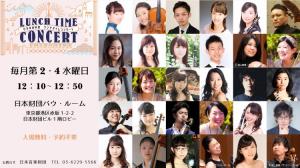 Concerts Until March 2020 Here
① 8 April 2020 (WED)
 "Sound Journey with Piano Duo"
 Shiho Ojima/ Piano
 Yoshihiro Teramoto/ Piano
② 22 April 2020 (WED)
 "Romance of Viola"
 Meguna Naka/ Viola
 Yoshito Kitabata/ Piano
③ 13 May 2020 (WED)
 "It's a Classic Time!!"
 Kanako Yanagida/ Violin
 Kentaro Ifuku/ Piano
④ 27 May 2020 (WED)
 "Realm of So Duo"
 Sayuri Sakamoto/ So (Koto)
 Shogo Hiyoshi/ So (Koto)
⑤ 10 June 2020 (WED)
 "Mezzo Soprano & Piano Duo Concert - Chopin and French Music -"
 Atsuko Mochida/ Mezzo Soprano
 Kumiko Hara/ Piano
⑥ 24 June 2020 (WED)
 "Sakura Toba Cello Recital"
 Sakura Toba/ Cello
 Yasuko Toba/ Piano
⑦ 8 July 2020 (WED)
 "Celebration of Boogie-Woogie Piano"
 Keigo Takase/ Boogie-Woogie Pianist
⑧ 22 July 2020 (WED)
TBA
⑨ 26 August 2020 (WED)
 "Opera - Children's Songs ! - Lunch Time Concert-"
 Masachika Watanabe/ Tenor
 Yuta Kimura/ Baritone
 Hana Sasaki/ Flute
 Daiki Saito/ Piano, Composition
Concert Photos ⇒
Instagram
M A P
〒107-0052 東京都港区赤坂1-2-2 日本財団ビル
Inquiry:TEL 03-6229-5566 info@nmf.or.jp